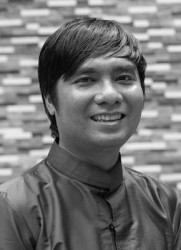 Former Senior Program Officer, Governance, Myanmar
Nay Lin Htike was formerly a senior program officer for The Asia Foundation's Governance Program in Myanmar. He has over a decade's experience working in program coordination and management on the Thai-Myanmar border as well as within Myanmar. Previous roles have included health educator, human rights trainer, project manager, program coordinator, facilitator, and senior program officer in the fields of HIV/AIDS prevention, gender, human rights, LGBT rights and governance.
He is a dedicated advocate and young leader for human rights in Myanmar, with a particular focus on LGBT rights and SOGIESC issues. He is a seasoned facilitator and a well-known advocate for LGBT rights and gender issues. He has actively participated in legal reform and policy development processes spearheading efforts to extend protection to minorities. For instance, he advocated for the inclusion of LGBT-sensitive language in the national youth policy passed by the Myanmar Government early 2018. In addition, he is a 2018 Myanmar LEAD (Leaders Advancing Democracy) fellow.
Education: Nay Lin Htike holds a bachelor's degree in English from Yangon University of Distance Education and a diploma in Liberal Studies from Australian Catholic University. He has finished short-courses such as "Introductory Course on International Human Rights" at Oslo University, "4th Glocal Adocacy Leadership in Asia" by Forum Asia, "Social Innovation and Project Management" by World Learning, "1st Myanmar Federal Training" by Hanns Siedel Foundation and Canterbury University, and "Certified Strategic Management" by Myanmar Management Institute.