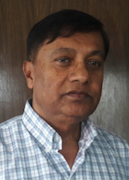 Senior Director, Bangladesh
As a development specialist, Nazrul Islam has more than 30 years of experience in the fields of education, professional development training, and public health, including 24 years of experience in directly managing USAID-funded programs. Currently he is the program director for the Reducing Violence Against Women (RVAW) program funded by the Foundation's Lotus Circle, as well as promoting good governance through higher level schools and Muslim religious leaders funded by Australian High Commission in Bangladesh, acting as director for expanding economic opportunities for women entrepreneurs in Bangladesh through ICT, and contact person for the Civil Society Fund of the South Asia Water Governance Program Bangladesh, partly funded by DFID.
He previously served as chief of party for the Asia Foundation-managed, USAID-funded Leaders of Influence (LOI) program from 2010 to 2011, and served as the deputy chief of party for the LOI program for the period 2007 to 2010. He also served as the program director for the Asia Foundation-managed, USAID-funded Leaders Outreach Initiative (LOI-1) project in Dhaka from 2005 to 2007. During 2005 to 2011, he designed and implemented an extensive training program for more than 26,000 Community Leaders across Bangladesh, as well as organizing several regional exchange programs across Asia. He served as education advisor to the Royal Norwegian Embassy in Bangladesh from 2002 to 2004, advising the Government of Norway on project planning, policy and financial analysis, program implementation, monitoring and impact assessment, and human resource development in the field of education. From 1997 to early 2002 he held senior manager positions with Pathfinder International, with responsibility for the planning, implementation, monitoring, and review of activities conducted under the USAID-funded National Integrated Population and Health program (successor to the Bangladesh Family Planning an Health Services Project) in five regions of the country. From 1984 to 1997, he held the positions of senior program officer and team leader with The Asia Foundation's Bangladesh Family Planning and Health Services Project, including a concluding assignment as director.
Education: Nazrul Islam has a master's degree in Public Health from the University of North Carolina at Chapel Hill, and master's and bachelor's (Honors) degrees in English from the University of Rajshahi, Bangladesh. He has also attended long term studies as well as short term training programs in the areas of Health Program Management at Boston University School of Public Health, Master Trainers' Training Program at the Medex Group of the University of Hawaii and Program Management and Training of Trainers Programs at the International Health Program at the University of San Francisco.