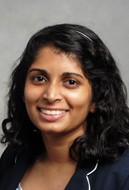 2014-2015 Luce Scholar
International Research Institute of Disaster Science Tohoku University School of Medicine Tohoku University Sendai, JAPAN
Nicole Gunawansa grew up in a lively Sri Lankan household in Portsmouth, Virginia. After spending a significant amount of time volunteering at hospitals and homeless shelters in and around Portsmouth, Nicole developed a deep-seated interest in medicine and the role that poverty plays in equal access to medical treatment. In May 2014 Nicole graduated from Washington and Lee University in Lexington, Virginia with a bachelor's degree in Neuroscience and an added emphasis in Poverty and Human Capability Studies.
As a Washington and Lee University Robert E. Lee Research Scholar, Nicole has spent four years participating in behavioral neurological research that focuses on the impact of obesity and gonadal hormones on spatial and episodic cognition. Her research was well received at the National Society of Neuroscience conference in November of 2013, and a paper on this topic was slated for submission to the Journal of Physiology and Behavior in the spring of 2014. Nicole is a Bonner Scholar and AmeriCorps member and has dedicated over 900 hours to both domestic and international community service. She has worked with various organizations throughout the Lexington community, including the Rockbridge Area Health Center, the Leadership Team of W&L Campus Kitchens, and several local afterschool programs. She also spent time volunteering in Birmingham, Alabama, where she worked with programs such as Alabama A+ and Focus First to promote the welfare of Birmingham youth.
In an attempt to further explore the relationship between medicine and poverty, Nicole became involved with the Rockbridge Community Health Needs Assessment via the MAPP Project (Mobilizing for Action through Planning and Partnership) in 2012. She also spent a semester abroad in Denmark studying the impact of the Scandinavian Healthcare Model on different sectors of European society. In the summer of 2013, Nicole was awarded both a Johnson Opportunity Grant and a Shepherd Consortium International Internship, enabling her to spend two months in Ghana teaching English at Ashaiman Apostolic Academy and volunteering at Kaneshie Polyclinic. Nicole's record of domestic and international service, in conjunction with her background in science, motivates her to pursue her dream of becoming a physician capable of catering to the underprivileged populations of the world.
The 2014-2015 Luce Scholar placement for Nicole Gunawansa will be at Tohoku University's International research Institute of Disaster Science. Founded in 1907, Tohoku University in Sendai, Miyagi in the Tōhoku Region, is a Japanese national university, the third oldest Imperial University in Japan and a member of the National Seven Universities. Following the catastrophic disaster of Great East Japan Earthquake of March 11, 2011, Tohoku University established the International Research Institute of Disaster Science (IRIDeS). Together with collaborating organizations from many countries and with broad areas of specializations, the IRIDeS conducts world-leading research on natural disaster science and disaster mitigation. IRIDeS aims to become a world center for the study of the disasters and disaster mitigation, learning from and building upon past lessons in disaster management from Japan and around the world.