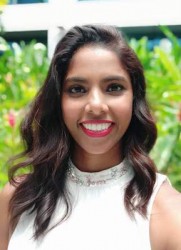 Former Senior Advisor, Singapore
Sarah formerly served as The Asia Foundation's senior advisor in Singapore. She joined the Foundation in April 2019, and in this capacity managed and worked across programs and projects. She serves as a liaison for country offices, San Francisco and Washington, DC for regional programming, events, and study tours that come to Singapore. She has further expanded and deepened the Foundation's institutional relationships with corporate partners, family foundations, academic institutions, think tanks, embassies, and leading hotel brands.
Prior to moving to Singapore in 2015, Sarah lived in Australia for 3 years. She served as the chief operating officer of The Funding Network Australia, a live-crowdfunding nonprofit based in Sydney. From 2006-2011, Sarah worked in a Silicon Valley high-tech company, ArcanaNetworks, as director of Business Operations. She also served as vice president on the board of directors for W.O.M.A.N. Inc., a nonprofit agency serving survivors of domestic violence in San Francisco. From 2003-2006, she lived and worked in Washington, DC as the first employee at DevEx. Sarah also worked as a financial consultant at Bank of the West in San Francisco from 2001-2002.
Sarah is passionate about women's empowerment; diversity and inclusion. Outside of work, Sarah loves traveling with her family and scuba diving.
Education: Master's degree in Public Administration from the Maxwell School at Syracuse University, master's degree in International Economics from the University of Nebraska, Lincoln, and master's degree in Business Administration from St. Joseph's College of Business Administration, Bangalore, India.