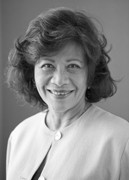 Former Trustee of The Asia Foundation
Former United Nations Under-Secretary General
Distinguished Fellow, Rajaratnam School of International Studies (RSIS), Singapore
Dr. Noeleen Heyzer served on The Asia Foundation Board of Trustees from 2016 to 2020.
Dr. Heyzer was the first woman to serve as the Executive Secretary of the United Nations Economic and Social Commission for Asia and the Pacific (ESCAP) since its founding in 1947. As the Executive Secretary (August 2007-January 2014), she strengthened ESCAP's capacity and effectiveness to support the countries of the region, using its convening powers and standard-setting authority, rigorous analysis, technical and policy assistance to build the economic and social foundations for inclusive and sustainable development. She was subsequently appointed as the United Nations Secretary-General's Special Adviser for Timor-Leste, working to support peace-building, state-building, and sustainable development.
Prior to her appointment to ESCAP, Dr. Heyzer was the first woman from the global south to head the United Nations Development Fund for Women (UNIFEM). She became its longest serving Executive Director for 13 years (October 1994–August 2007), transforming it from a small entity to a powerhouse leading in women's empowerment and gender equality. Dr. Heyzer has served on numerous boards and advisory committees of international organizations, including the UNDP Human Development Report, UNDP Eminent Persons Group on Trade and Sustainable Development, the G77's High-level Panel of Eminent Personalities of the South, the Asian Development Bank's Eminent Persons Group, International Advisory Committee of the Institute of Social Studies at the Hague, Distinguished Fellow of the Asia Global Institute at Hong Kong University, Founding Board Member of the Institute of Societal Leadership at Singapore Management University, and Board of Trustees of the National University of Singapore. Born in Singapore, Dr. Heyzer holds a Bachelor of Arts (Upper Hons.) and a Master of Science from the University of Singapore. She obtained a doctorate in Social Sciences from Cambridge University in the United Kingdom.