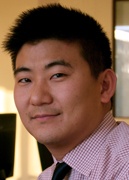 Deputy Manager, Urban Governance Project, Mongolia
Philippe Long is the deputy manager for the Urban Governance Project in Mongolia. Long joined The Asia Foundation following an assignment with the Aga Khan Foundation in their Policy and Partnerships division in Kabul, Afghanistan. Between September 2014 and September 2016, Long worked for the UN Development Programme (UNDP) in Mongolia within their Democratic Governance unit as a Development Information and Knowledge Management Officer. In this capacity, he served as project advisor, coordinator and liaison for UNDP's Capacity Strengthening of Local Self-Governing Bodies project that was funded by the Swiss Agency for Development and Cooperation.
Prior to UNDP, he worked as a Management Analyst for the United States National Institutes of Health in Maryland, and as an HIV/AIDS and Nutrition Policy Assistant for the UN World Food Programme in Geneva, Switzerland. Philippe has previously interned for the UN, as well as government and non-governmental organizations and institutions including UNICEF Lao PDR, UNICEF Switzerland, US Congressman Chris Van Hollen, World Federation of United Nations Associations, and Geneva for Human Rights.
Education: Philippe Long received his bachelor's degree in Political Science from Boston College, and his master's degree in Political Science and International Relations from the University of Geneva in Switzerland.
Phone:
+976 (11) 322-172
Email:
philippe.long@asiafoundation.org