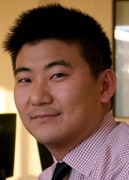 Social Accountability Team Lead, Myanmar
Philippe Long is social accountability team lead for The Asia Foundation in Myanmar. He rejoins the Foundation following an assignment with the UN Development Program (UNDP) Bangladesh supporting social cohesion and host community development in Cox's Bazar.
In 2017, Philippe joined the Foundation in Mongolia and oversaw the Urban Governance Project (UGP). UGP has contributed to municipal budget transparency, de-concentrating public services, and establishing a systematic training program for civil servants. Prior to joining the Foundation, Philippe worked for the Aga Khan Foundation in their Policy and Partnerships division in Kabul, Afghanistan.
From 2014-2016, Philippe was project coordinator for a UNDP Mongolia project that strengthened the capacities of 8000 legislative councilors to improve public service delivery and social accountability.
Prior to his time in Mongolia, Philippe worked for the National Institutes of Health, World Food Program and UNICEF. In 2019 he co-authored a paper on secondary city development in Mongolia.
Education: Philippe Long received his bachelor's degree in Political Science from Boston College, and his master's degree in Political Science and International Relations from the University of Geneva in Switzerland.
Email:
philippe.long@asiafoundation.org