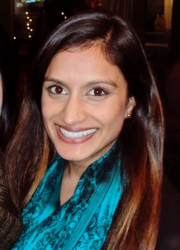 Senior Program Officer, Women's Empowerment Program
Priya Dhanani has focused her academic and professional career on advancing gender equality and women's empowerment. She has extensive professional experience in training design and facilitation, qualitative research, conducting gender analyses, and gender integration and mainstreaming. Her work in responding to GBV and gender inequality has sought to bridge the gap between evidence-based models and gender-focused action, and she consistently welcomes opportunities for collaboration and shared learning. Dhanani joined The Asia Foundation in August 2019 and works closely with the Foundation's country offices to provide technical assistance on a range of issues, including combating many forms of gender-based violence (GBV) such as human trafficking, violence against women and girls, and enhancing trauma-informed services for victims and survivors. Additionally, she supports programs that relate to crisis and conflict mitigation and response; advance the women, peace and security agenda; enhance access to justice; promote male engagement in gender equality; and education programming. She also advances gender mainstreaming and integration across the Foundation's technical areas, which includes leading gender training.
Prior to joining the Foundation, Priya Dhanani was the Gender Equality and GBV specialist at EnCompass LLC., where she trained USAID staff in Bangladesh, Nepal, and Pakistan on gender integration and GBV prevention and response programming. She conducted gender analyses to address issues of inequality in programming and policy and provided technical leadership to build capacity among multi-sectoral stakeholders to ensure that gender considerations remained at the forefront.
She earlier served as director of Prevention Education with FAIR Girls, where she provided case management support to human trafficking survivors, designed trafficking prevention curricula for boys and girls, strengthened referral systems, and trained service providers in trauma-informed and survivor-centered care. Dhanani applied best practices to manage the collection and interpretation of data to facilitate learning and to inform and support program development with a gender lens.
In addition, Dhanani has experience providing child protection services to trafficking survivors on the Thai and Burmese border while adhering to international minimum standard guidelines. She also designed a training for service providers in Nepal, working with sex trafficking and GBV survivors, to deepen their understanding of trauma and implement self-care strategies.
Education: Priya Dhanani holds a bachelor's degree in International Affairs and Women and Gender Studies from Georgia State University and a master's degree in Sociology from George Washington University, where she was also a part-time adjunct professor. She holds a certification in conducting focus groups and a certification in the neurobiology of trauma and how that impacts behavior. Priya speaks English, Gujarati, and basic Hindi.