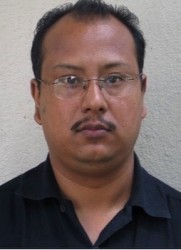 Administrative Manager, Nepal
Pushkar Shrestha has more than 30 years of experience in the administration field. Pushkar joined The Asia Foundation in 1991 as an office assistant and currently serves as administrative manager and member of the Nepal office's senior leadership team.
At the Foundation, he plays a substantial role in ensuring efficient operation of the administration department. He oversees the workflow of the 12-member administration department. His day-to-day duties include office management, facilities management, development and maintenance of policies and procedures, travel, and staff management. Pushkar also serves as the Foundation's liaison with partner government ministries to ensure effective coordination for official work such as obtaining duty exemptions and securing issuance of visas for international staff.
Under his leadership, the Administration department of Nepal received an award in 2018 for their excellent performance. He has also received certificates of appreciation from the Foundation in 2006 and 2016. Under his leadership, the Administration team and its members regularly receive awards and accolades.
Before joining the Foundation, Pushkar worked as an assistant manager with American Mission Association, Nepal, where he worked for two years in different capacities.
Education: Pushkar completed his intermediate level education in Commerce at Tribhuvan University and has taken different training relevant to his field of work. He speaks English, Nepali and Newari.