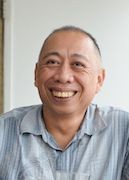 Former Senior Program Officer, Philippines
Quintin Atienza II (Kit) joined The Asia Foundation in August 2017 as senior program manager for the Foundation's Coalitions for Change program managing Disability and Special Programs. His work focuses on policy changes that will enable full participation of people with disabilities in the society. He has worked with people with disabilities for eight years as a researcher, sign language interpreter, and as disability focal of the Australian Department of Foreign Affairs and Trade (DFAT) Manila.
Kit has over six years' experience in program management. Before joining the Foundation, he served as senior program officer with DFAT. He has managed education programs focusing on curriculum, assessment, research, teacher development, classroom construction, Muslim and Indigenous People, and inclusive education. With DFAT, he also managed the UN Joint Program on Maternal and Neonatal Health. Prior to this, he was a faculty member at the De La Salle-College of Saint Benilde, where he headed a team that developed the College's entrance examination. He was also part of the team that developed the Department of Education's Accreditation and Equivalency test, a test designed to give elementary- and secondary-level qualifications for out-of-school youths and adults.
Education: Kit completed a Disability Inclusive Development course from the University of Melbourne's Nossal Institute. He holds a master's degree in Educational Measurement and Evaluation from De La Salle University Manila and a degree in Psychology from University of the Philippines in the Visayas.