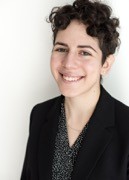 2018-2019 Luce Scholar
Rachel Stamler-Jonas grew up in Metro Detroit where exposure to community-based art projects inspired her to use art as a mechanism for collective action. As a director, writer, and facilitator, Rachel uses theatrical forms of devising, creative drama, and civic practice, along with puppetry, writing and music, to meet community needs. In June 2018, she will receive a bachelor's degree in Theatre from Northwestern University. As one of eleven Alumnae of Northwestern University Undergraduate Research Scholars, Rachel researched and developed a nonbinary Hans Christian Andersen adaptation, The Little Merperson. She directed the play with an entirely transgender cast as part of her Honors Thesis. The School of Communication awarded her the Performing Arts Grant for co-authoring and directing Ignition: a New Blues-Rock Musical. Rachel serves on the LGBTQ Student Advisory Board and is Marketing Director for Lipstick Theatre, Northwestern's feminist theatre board.
As a three-time selected peer adviser, she provided yearlong mentorship and dialogue facilitation for dozens of new students each year. Her peers elected her communications director for the Performing Arts Residential College. Rachel attended CPCP/Sojourn Summer Institute and NOURISH, gaining invaluable experience in collaborative arts partnerships and creative problem-solving strategies. She developed a grassroots project focused on women's relationships to environmental action and performed as part of an ensemble. As a Drama Counselor, Rachel created a summer-long adaptable curriculum for six- to twelve-year-olds. She also worked with local middle school students as a teaching artist. Rachel writes poetry and songs, including "SJ Maude," an original album available on iTunes and Spotify. She enjoys sculpting, photography, painting, acting, performing drag, and once danced 120 hours for Northwestern's Dance Marathon community fundraiser.