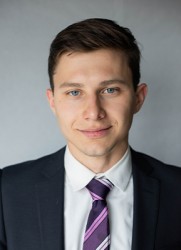 2020-2021 Luce Scholar
In May 2020, Roman Shemakov will graduate from Swarthmore College as a Rubin Scholar with an honors major in History, and minors in Economics and Russian. Born and raised in Ukraine, Roman immigrated with his family to Phoenix, Arizona after the election of the now-exiled Viktor Yanukovych in 2009. He is the first in his family to attend a college, with the help of a full-ride Questbridge Scholarship. Roman is passionate about fostering sustainable and equitable economic development, with a particular focus on global cities as vehicles for change. Ukraine's 2014 Revolution of Dignity was a turning point in Roman's political consciousness. With some of his family still living in Eastern parts of the country, he secured a grant to film a short documentary for an organization in Odessa focused on nonviolence mediation and resettlement programs for refugees from Donbas. Through strategic distribution, the project helped raise funds and public consciousness about the war's aftermath. To foster ongoing support, he founded the Project for Eastern European Relations, which invites international experts to lecture at Swarthmore and publishes academic works on Eastern Europe through an undergraduate journal. Roman completed academic research for political scientists on Eastern Europe's war and peace policies since the 1960s and spent a semester at Yale-NUS in Singapore, studying international law and urban theory.
Over his undergraduate career, Roman has worked for an infrastructure regulatory advisory in Washington D.C., the Democratic National Committee in Philadelphia, a political consultancy in Singapore, and a higher education NGO in Moscow. His writings have been published in the Harvard Classics Journal, the Columbia Journal for Slavic Studies, and The Swarthmore Review. Fluent in Russian and Ukrainian, with lessons in Spanish and Arabic, Roman is looking forward to breaking new linguistic ground in Asia. He is an avid tennis player, with interests in sound art, documentary photography, and Russian literature.