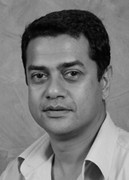 Former Country Representative, India
Sagar Prasai left the Foundation in September, 2018.
Sagar Prasai was formerly The Asia Foundation's country representative in India. He was formerly the deputy country representative in Nepal. His current work involves regional cooperation in South Asia with a particular focus on water, trade, and migration; transnational political economy; urban governance and women's security.
Prasai has worked with governmental as well as multilateral organizations on urban management, local governance, conflict, and political processes. He previously served as a programming advisor to the National Planning Commission of Nepal, and as a district development advisor to the United Nations Development Program in Nepal.
He has led several political economy analysis studies for The Asia Foundation including Drivers of Legitimacy in Nepal (2007), Political Economy of Local Governance in Nepal (2012), and Political Economy Analysis and Stakeholder Mapping of the Teesta Basin (2012). His articles have appeared in South Asian and global journals, portals and blogs. He is the author of the book Revisiting Transnational Migration-Development Nexus: Using Capability Approach in Migration Research.
Education: Bachelor's degree in Architecture from Nagpur University; master's degree in Urban and Regional Planning from the University of Hawaii; and doctor of philosophy degree in Regional Planning from the University of Illinois at Urbana-Champaign.