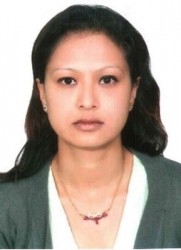 Project Director, Data for Development, Nepal
Sajana Maharjan leads the Foundation's data governance portfolio in Nepal, including as project director for UK Aid-funded Data for Development program. She also serves as a member of the office's senior leadership team. Prior to this, she was chief of party for the $16.08 million Civil Society: Mutual Accountability Project, funded by USAID and implemented by FHI 360. From 2005 to 2016, she worked in different capacities in programs designed to manage peacebuilding, conflict management, and political transition. She has extensive experience working with civil society groups, political actors, government officials, media, and women at both national and sub-national levels. Her prior working experience with the UNDP Strengthening the Rule of Law and Reform of the Judiciary Programme from 2001 to 2005 helped her understand the functioning of the judiciary and legislative bodies of Nepal more closely. She is one of the founding members of the Nepal Transition to Peace (NTTP) Institute and is currently a member of the organization's board.
Education: Sajana holds a bachelor's degree in Science and in Law (International Law and Human Rights Law), and a master's degree in Sociology from Tribhuvan University, Nepal. She trained in Negotiation Approaches and Skills in Protracted Conflict with the Kroc Institute for International Peace Studies at the University of Notre Dame and completed a summer course on peace and human rights studies from South Asia Forum for Human Rights (SAFHR).