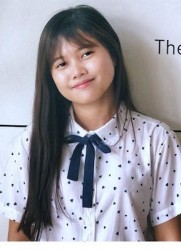 Digital Program Officer, Cambodia
Salinit began working with The Asia Foundation in Cambodia as a digital program officer in September 2021. She currently works on two different projects: Go Digital ASEAN, a regional digital literacy project funded by Google.org, Google's philanthropic arm, and Accelerate Women's Entrepreneurship, and Access to Capital in Cambodia, which supports women-led small and micro businesses and is funded by the VISA Foundation.
Salinit supports the digital programs team by facilitating the recruitment process and ensuring effective communications and collaboration with stakeholders for Go Digital ASEAN and the Accelerate program. She also assists with the development of programmatic communications and the monitoring of program implementation.
Before joining The Asia Foundation, Salinit was a project officer at the Cambodian Center for Independent Media, where she focused on the Media and Information Literacy project. Before that, she was a trainer for the Media 101 club, a platform where students can learn, produce, and discuss media topics.
Education: Salinit holds bachelor's degrees in International Relations and Physics from the Royal University of Phnom Penh.