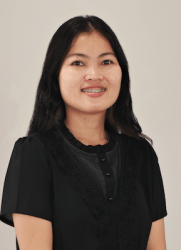 Assistant Program Officer, Cambodia
Samneang Min works with The Asia Foundation as assistant program officer for the Ponlok Chomnes: Data and Dialogue for Development in Cambodia program, which aims to strengthen the capacity of the Cambodian knowledge sector institutions to undertake quality research that informs public policy analysis and dialogue in Cambodia. She provides support on events, logistics, grants, policy dialogues and forums, communications, social media, among others. Samneang also contributes to the program's monitoring and evaluation system and day-to-day operation.
Samneang has more than five years of volunteering and professional experience engaging with youth, citizens, and public officials across Cambodia and the Asia Pacific. Samneang was a senior project assistant at Transparency International (TI) Cambodia. She contributed to the successful implementation of TI's projects, including coordinating and facilitating various training workshops; organizing official meetings with the Department of Integrity and Governance and the Department of Functions and Resources of the Ministry of Interior; supporting project operations to ensure that both formal and informal discussions/meetings were completed effectively; and ensuring that policy compliance processes were properly followed. Additionally, Samneang led the Together for Her project, was secretary-general for Youth Movement for Transparency in Asia-Pacific, and was the project founder of Integrity GO!
Education: Samneang holds a bachelor's degree in International Relations from the University of Cambodia.