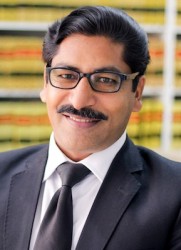 Former Team Lead, Rule of Law, Pakistan
Sharafat Ali Chaudhry left the Foundation in 2020.
Sharafat A. Chaudhry is a human rights lawyer with over 18 years of work experience in the fields of Law and Development. He is a life member of the Islamabad High Court Bar Association. He is also a member of the ICT Child Protection Advisory Board, Government of Pakistan and previously served as a member of the Law Review Committee constituted by the Supreme Court of Pakistan. He has represented more than 500 public and private litigants before different courts of law in Pakistan.
As a legislative drafting expert, he has contributed to more than 30 human rights-related laws with a focus on the rights of women, children and minorities. While working with the Ministry of Law and Justice and Ministry of Human Rights, he advised to the Federal Government on human rights and development related issues and wrote several pieces of legislative advice and legal opinion. Many of the bills he wrote are now acts of Parliament, including the Criminal Law (Second Amendment) Act, 2016, the Balochistan Child Protection Act, 2016, the GB Child Protection and Welfare Act, 2016, the Hindu Marriage Act, 2017, the National Commission for the Rights of the Child Act, 2017, the Cost of Litigation Act, 2017, the Alternative Dispute Resolution Act, 2017, the Juvenile Justice System Act, 2018 and the ICT Child Protection Act, 2018.
As the lead resource person for Pakistan Manpower Institute, Ministry of Human Right and KP Judicial Academy, he has conducted various trainings of judges, prosecutors and lawyers on Laws of Crime, Gender Sensitive Prosecution, Human Rights, Rule of Law and Alternative Dispute Resolution.
He has conducted several research studies on legal, social, security and governance related topics and contributed to internationally circulated research journals and reports. He is the author of the book Law and Development: An Alternative Indicator for the Measurement of Development. Read more about his work.
Sharafat has previously worked in different projects with Punjab Education Sector Reforms Program, Reach out to Asia Qatar, Directorate of Staff Development Punjab, Care International, Plan International, ISCOS Italy, Insaf Network Pakistan, Acid Survivors Foundation, NCSW, Group Development Pakistan, KP Judicial Academy, SAHE, CIDA and World Bank.
Education: Sharafat holds a bachelor's degree in Law and master's degree in English Literature from Bahauddin Zakariya University. He also holds master's degrees in Development Studies (Gold Medal) and in International Development with specialization in Law and Development (Gold Medal) from Iqra University.