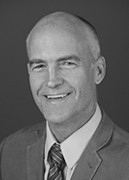 Former Country Representative, Cambodia
Silas Everett left the Foundation in 2017.
Silas Everett joined The Asia Foundation as country representative of Timor-Leste in 2008 and became the Cambodia country representative in 2013.
Prior to joining the Foundation, he worked as Senior Technical Advisor for Civil Society and Conflict Management in South and Southeast Asia for Mercy Corps in 2005-2007. In 2003, he worked as Chief of Party for the USAID-funded Training, Advocacy, and Networking program in Mongolia for Mercy Corps. In 2001, he worked as Chief of Party for the USAID-funded Azerbaijan Civil Society Development program in Azerbaijan for Catholic Relief Services (CRS). Everett served as a Peace Corps Volunteer in Mongolia and as an International Development Fellow for CRS in Serbia and Montenegro. He also served as an observer of the 2002 Georgian municipal elections and 2004 Mongolian parliamentary elections.
His recent work with government and NGOs has been concentrated in the areas of alternative dispute resolution, traditional justice, and civil society development in conflict-affected, nascent democracies. Everett received certification to mediate in the state of Massachusetts. He speaks advanced Mongolian and is proficient in Spanish.
Education: Master of Arts in Law and Diplomacy degree from The Fletcher School of Law and Diplomacy and holds a bachelor's degree from Tufts University in English and Philosophy.