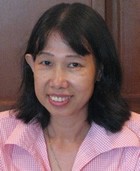 Former Program Manager, Cambodia
Sivhong Lim is a social development specialist with more than 20 years of experience working with international nongovernment organizations, through which she has had extensive experience working with government agencies, NGOs, and stakeholders at the subnational level with various development projects. She worked with international NGO Cooperation International Development and Solidarity (CIDSE) from 1992 to 2000, leading two projects promoting gender equity and mainstreaming gender in the development works, and heading a Partnership Training Unit, where she worked to provide capacity building in project management and organization development with more 20 NGO partners.
Sivhong joined The Asia Foundation in August 2000. She served in various projects including managing labor migration, anti-trafficking in persons, gender-based violence, women's empowerment program and supporting female tertiary scholarship programming. She spearheaded prevention of human trafficking, working with stakeholders at national and subnational levels to advocate for better protection of local migrants, and building capacity of implementing partners in safe migration and coordinate for policy changes that best protect labor migrants from exploitation and trafficking.
Having a strong background CSO capacity development, Sivhong was an active volunteer member over many years with the NGO Code Compliance Committee—a project of Cambodia Cooperation Committee (CCC)—which promotes professionalism and good governance and professional practices among NGOs in Cambodia by assessing their compliance and provision of Volunteer Certification System.
Education: She holds a bachelor's degree in Agriculture from the Royal University of Chamkar Dong in Cambodia, and a master's degree in Management of Rural Development from Khon Kean University in Thailand. She also holds a Fellowship Certificate on Pedagogy Skill from Ukraina University in Russia, and a Chevening Certificate on Government Relations with NGOs and Civil Society from the UK.