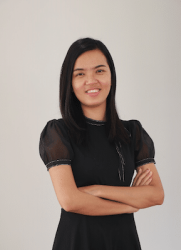 Former Senior Program Officer, Cambodia
Sopheary Ly formerly served as a senior program officer with The Asia Foundation in Cambodia.  Sopheary's work focused on a program under the Australian-funded ACCESS program, Improving Legal Aid Services for Women Survivors of Gender-Based Violence, building the capacity of the Ministry of Women's Affairs and subnational teams, and increasing the evidence base to improve the policy environment for Access to Justice among women affected by GBV. Additionally, she also worked with The Asia Foundation's China office  to implement the Gender Sensitive Corporate Responsibility for Chinese Textile and Apparel Investors in Cambodia program by providing support in the development of information kits for garment factory employees and training. She also coordinated an Accelerate project that aims to promote inclusive economic growth by supporting women-led small and micro businesses in Cambodia to access markets and capital and grow their businesses. She also coordinated a Learning and Leading program to build soft skills and provide major and career guidance for youth.
Prior to pursuing her master's degree in Australia in 2018, Sopheary worked with the Extraordinary Chambers in the Courts of Cambodia where she coordinated a gender-based violence project with the Ministry of Women's Affairs and coordinated a legal aid network.  From 2015 to 2016, Sopheary was an advocacy and communications officer with UNDP and from 2013 to 2015, she was a Lecturer of English and the Institute of Foreign Languages at the Royal University of Phnom Penh. Sopheary has participated in a number of international workshops, including YSEALI in Malaysia in 2014, the Think Tank Development Forum in Thailand in 2017 , and the Women in Asia Conference in Sydney, Australia in 2019.
Education: Sopheary Ly holds a master's degree in Development Studies, specializing in Gender and Development, from the University of Melbourne in Australia. Additionally, Ly has a bachelor's degree in Education from the Royal University of Phnom Penh, was an exchange student at St. Cloud State University in Minnesota, and holds a bachelor's degree in Law from the Royal University of Law and Economics.