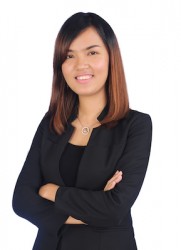 Program Officer, Cambodia
Sopheary Ly is a program officer with The Asia Foundation in Cambodia.  Ly's work focuses on a new program under the Australian funded ACCESS program, Improving Legal Aid Services for Women Survivors of Gender-Based Violence, which aims to build capacity of the Ministry of Women's Affairs and subnational teams and increase evidence base for improved access to justice for women affected by gender-based violence. Additionally, Ly also works with The Asia Foundation's China office  to implement the Gender Sensitive Corporate Responsibility for Chinese Textile and Apparel Investors in Cambodia program by providing support in the development of information kit for garment factory employees and in the delivering of a training to them.
Prior to pursuing her master's degree in Australia in 2018, Ly was with the Extraordinary Chambers in the Courts of Cambodia where Ly coordinated a gender-based violence project with the Ministry of Women's Affairs and coordinated a legal aid network.  From 2015 – 2016, Ly was an Advocacy and Communications Officer with UNDP and from 2013 to 2015, Ly was a Lecturer of English and the Institute of Foreign Languages at the Royal University of Phnom Penh.  Ly has participated in a number of international workshops, including YSEALI in Malaysia in 2014, the Think Tank Development Forum in Thailand in 2017 and Women in Asia Conference in Sydney, Australia in 2019.
Education: Sopheary Ly holds a master's degree in Development Studies, specializing in Gender and Development, from the University of Melbourne in Australia. Additionally, Ly has a bachelor's degree in Education from the Royal University of Phnom Penh, was an exchange student at St. Cloud State University in Minnesota, and holds a bachelor's degree in Law from the Royal University of Law and Economics.