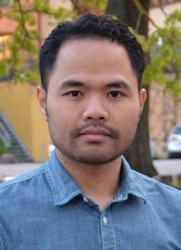 Senior Digital Program Officer, Cambodia
Sornnimul Khut joined The Asia Foundation in Cambodia as a senior digital program officer, managing the Foundation's Digital Initiatives including the Let's Read initiative, TEK4Good, Career Introductory Videos and other digital initiatives. The Let's Read initiative works with relevant individuals and partners to produce high quality children's storybooks in local language, while TEK4Good supports the technology startup ecosystem in Cambodia through creating an enabling environment to harness the power of technology for social good. The Career Introductory Videos initiative is aimed to bridge the existing information gap from education to employment among high school students through creating informative career videos. Prior to joining the Foundation, Sornnimul worked for a multinational corporation as a corporate communication executive, tasked to look after internal and external communications and government relations and Corporate Social Responsibility. He also worked as media trainer and media content manger, communication practitioner a journalist with various organizations including Australian Broadcasting Corporation International Development, Habitat for Humanity Cambodia, and the Phnom Penh Post.
Education: Sornnimul Khut holds a bachelor's degree of Media Management and a bachelor's degree in Education in English from the Royal University of Phnom Penh and a master's degree in Social Science, Digital Media and Society from Uppsala University, Sweden.
Email:
sornnimul.khut@asiafoundation.org