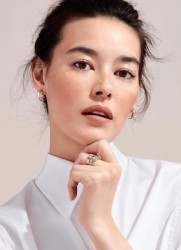 Lotus Circle Advisor
Stephanie Sun is a retired international model, founder, philanthropist, wife, and mother. Stephanie's 20-year modeling career gave her the opportunity to spend extensive time in Seoul, Hong Kong, Singapore, Beijing, Shanghai, Bangkok, Paris, Milan, New York, and Los Angeles. She worked with leading fashion houses and beauty brands from all over the world. In 2015, Stephanie founded Smoothie Beauty. It was an organic skincare brand that was made with only food-based ingredients, and each purchase went towards the organization One Tree Planted to support reforestation. Although Smoothie Beauty is no longer running, Stephanie gained valuable experience in branding, finance, business development, public relations, and marketing.
Stephanie's experience working and traveling throughout Asia, South America, Africa, and Europe provided her with a firsthand perspective on the need for basic human rights around the world. She has supported the organization Food For the Hungry since February 2020, where she continues to sponsor two children in Guatemala and is thrilled to be a part of The Asia Foundation.
Stephanie holds a bachelor's degree, summa cumme laude, in Industrial & Organizational Psychology from Touro University. She is still an avid traveler and loves spending time with her family and two cats. She resides in Manhattan with her family.