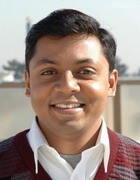 Technical Advisor - Surveys
Sunil Pillai has over ten years of survey and market research experience, including four years with Nielsen in India. He has been involved with the design and management of several nationwide opinion polls in India, Afghanistan, Sri Lanka and Maldives. He has wide experience in handling both quantitative and qualitative survey projects, focusing on opinion polls, usage and attitude studies, product and concept tests and advertising tests.
With The Asia Foundation, Sunil worked with the Kabul office providing technical assistance to The Asia Foundation's Afghanistan nationwide survey program and has been involved with all of the surveys conducted by the Foundation since 2004. Currently Sunil is based in India and manages various quantitative and qualitative survey projects for several of Foundation's offices.