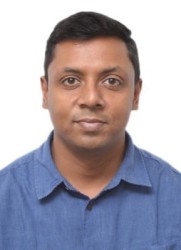 Technical Advisor – Surveys
Sunil Pillai has over two decades of work in survey design, planning, management, data analysis, and reporting spanning both the market and social sectors adept in both quantitative and qualitative methodologies. He has been involved with the design, management, and reporting on several surveys and polls in Afghanistan, Cambodia, India, Laos, Maldives, Mongolia, Myanmar, Malaysia, Nepal, Sri Lanka, Thailand, and Timor-Leste.
Sunil has been associated with the Foundation since 2003, first with the Afghanistan office where he was primarily providing technical assistance to Afghanistan's nationwide survey program. Currently, Sunil is based in India and manages various quantitative and qualitative survey projects for several of the Foundation's offices and also provides assistance for regional surveys involving multiple countries. He has been involved as a trainer of survey teams and building research and survey capacity
Apart from the Foundation, Sunil has worked with Nielsen India and recently with Kadence International as their head of Social Research.
Education: Sunil holds a master's degree in Public Policy and Management from the University of London, UK as well as a postgraudate diploma in Marketing from NMIMS, Mumbai, India