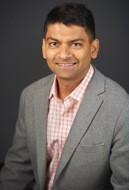 Former Senior Director, Global Information Services
Surya Sayed-Ganguly left the Foundation in December, 2015.
Surya Sayed-Ganguly joined the Foundation in 2013 to lead its knowledge management initiatives. Previously, Surya served as Director at the Nonprofit Organizations' Knowledge Initiative (NPOKI), building a practice that provides technical & management consulting services to 11 global health organizations operating primarily in sub-Saharan Africa. Prior to that he led the infrastructure consulting practice at NPower New York. Surya has worked as an Associate at McKinsey & Co., as Internet Architect at Great-West Life, and as CTO of a managed security software startup, as part of the founding team that took it to acquisition in two years.
After graduating from the dot com world, for three years he worked as an international eRider, consulting for nonprofits, NGOs and the U.S. Government, leading operational strategy, implementation and training. He was responsible for designing and deploying grassroots technology capacity, focused on appropriating and localizing technology in low resource settings. One example is a store-and-forward wireless mesh network that employed a mule (later upgraded to a Vespa), solar power and inexpensive wireless laptops to enable email communications, remote diagnostics and medical billing at a community health center in rural Costa Rica.
Surya has spoken at the Global Health Conference, the Nonprofit Technology Conference, InsideNGO and the Technology Affinity Group, on topics including civil legal remedy using technology, governance models for cloud-based knowledge, designing global health systems that track concrete health outcomes and using cheap technology in rural schools to enhance learning. He serves on the Board of Directors of InsideNGO and Powering Potential.
Education: Surya studied Mathematics at Whitman College for a B.A. and public interest law at New York University for a J.D. He holds MCSD, CISSP & PMD-Pro certifications.