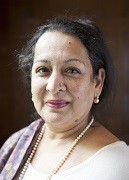 Lotus Circle Advisor
Swati Bhisé has been performing BharataNatyam, a form of Indian classical dance, extensively in the United States and India for over 35 years. She has performed at prestigious institutions such as the National Centre for the Performing Arts, Lincoln Center, and the Metropolitan Museum of Art. Ms. Bhisé also performed at the 40th anniversary of the General Assembly of the United Nations. In addition to being a concert performer, she has taught and conducted workshops in both public and private schools in the U.S. She has choreographed a number of renowned performances including the Thomas Mann musical, "The Transposed Heads," at Lincoln Center for the American Music Theatre Festival, the Electronic Opera, "Mass for the Dead," by American Chamber Opera company where she played the lead role, and "Daddy meets Durga," for Mabou Mines.
Ms. Bhisé runs the non-profit Sanskriti Centre which provides arts education in New York City. She trains young people in art appreciation and conducts lecture series at leading museums like the Smithsonian, Brooklyn Museum, and the American Museum of Natural History. She was recently honored with "The Jewel of India" for Indians with outstanding achievements in America by the American Indian community.