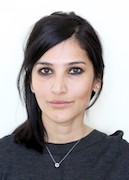 Director, Policy and Research
Tabasum Akseer is director of Policy and Research for The Asia Foundation She oversees the Foundation's annual Survey of the Afghan People, the broadest and longest-running public opinion survey in the country. The Survey polls Afghans across all 34 provinces, including insecure and physically challenging environments. Since 2004, the Survey has gathered the opinions of tens of thousands of Afghan men and women, providing a unique longitudinal portrait of evolving public perceptions of security, the economy, governance, and government services, elections, media, women's issues, and migration.
Tabasum provides overall strategic planning, management, and guidance related to the Survey, and leads all writing and analysis. Among other research projects she leads are the Model Disability Survey of Afghanistan 2019, the country's first regionally representative survey on disabilities in fifteen years, and the Survey of the Afghan Returnees (2018, 2019, and 2020 forthcoming). In 2020, amid the global pandemic and restrictions on conducting in-person interviews, Tabasum designed and managed the pivot to telephone surveys with the Afghanistan Flash Surveys on Perceptions of Peace, Covid-19, and the Economy. Conducted in three waves over a period of six months, the Flash Surveys are designed to actively track public sentiment on a more focused set of topics to support policymakers as they navigate a country in transition. Unique from other surveys, a subset of the roughly 12,000 interviews are with the same respondents across all three waves.
In addition to the department's research portfolio, Tabasum also manages a capacity-building program for the Afghan government on the use of evidence-based data for policymaking.
Prior to her work at The Asia Foundation, Tabasum consulted on projects intersecting gender, peace, security, and human rights. Most recently, she was a post-doctoral research fellow and consultant at the Center for International and Defence Policy, at Queen's University in Canada. At Queen's, Tabasum was a teaching fellow and assistant in the School of Religion, Department of Languages, Literatures and Cultures, and the Gender Studies department.
Education: Tabasum Akseer earned her doctoral degree in Cultural Studies from Queen's University, in addition to a master's degree in Education, and a bachelor's degree (Honours) in Political Science from Brock University.