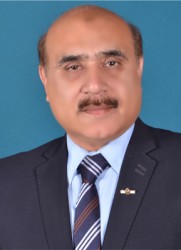 Security Advisor, Pakistan
Tahir Ahmed serves as security advisor for The Asia Foundation in Pakistan. He joined the Foundation's Pakistan office in March 2018. He is an ex-military professional, having served to the rank of colonel in the Pakistan Army and experienced in functions involving leadership, management, administration, employee development, security, protocol, and diplomatic assignments. He has served at executive levels at the Ministry of Defense, Military Intelligence, Ministry of Foreign Affairs (diplomatic posting), Army Command and Staff appointments, and in Civil Government departments.
Post army, he worked on senior security and management positions with two USAID energy projects in Pakistan. He has completed his Commonwealth master's degree in Business Administration from Allama Iqbal Open University. In recognition of his meritorious services in the army, he was awarded Sitara-e-Imtiaz (Military) award by the President of Pakistan.