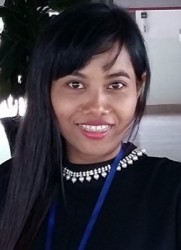 Program Officer, Cambodia
Vannaroith Sok is program officer for the Promoting Transparent and Accountable Management of Local Funds in Cambodia project, implemented in four provinces. She works closely with implementing partner SILAKA and relevant stakeholders including the Ministry of Economy and Finance and the Ministry of Interior and the National Committee for Sub-National Democratic Development. The project will provide capacity building for commune councilors and support public dialogues for citizens to be more informed, responsive, and knowledgeable on the local budgeting process.
Prior to joining The Asia Foundation, Vannaroith was a planning, monitoring, and evaluation coordinator and project coordinator for different projects supported by USAID, the EU and UN Women and the World Bank. She also served as assistant to the international co-prosecutor for the United Nations Assistance to the Khmer Rouge Tribunal for many years.
Education: Master's degree in Development Studies from the Royal University of Phnom Penh, and a master's degree in Public Policy from The University of Nottingham, United Kingdom. Vannaroith is also a Chevening alumna. Vannaroith has a bachelor's degree in Education from the Institute of Foreign Languages, Royal University of Phnom Penh.