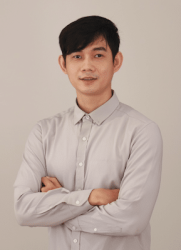 Program Officer, Cambodia
Sor Virakdara is an Asia Foundation program officer working to amplify Let's Read Program. With his capacity in digital and outreach experience, he is helping Let's Read E-Library reach kids and developing more interesting books for them.
Before joining Let's Read, Virakdara designed digital learning and scholarship information through a website called Ahladang for young people. Later, he served as a senior outreach officer at an international NGO, meeting hundreds of young people throughout Cambodia and organizing campaigns and events to deliver soft skills to young people and provide training to their parents. In Kampot Province, he created a learning space that helps accommodate access to literacy for 183 poor kids.
Education: He holds a bachelor's degree with Honor in International Studies from Royal University of Phnom Penh and is currently pursuing his master's degree in International Human Rights Law at Pannasastra University of Cambodia.