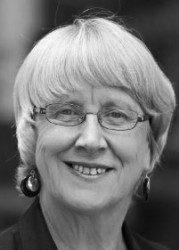 Former Deputy Country Representative, Afghanistan
Wendy Barron left the Foundation in May 2019.
Wendy Barron was formerly The Asia Foundation's deputy country representative in Afghanistan. She has over ten years of international development experience, leading complex programs in Afghanistan, Iraq, South Sudan, and Sudan, with a particular focus on refugee issues, sustainable livelihood development, education, and humanitarian assistance including humanitarian demining.
Prior to joining the Foundation, Wendy Barron worked as Country Director for ChildFund International in Afghanistan (CFA) where she provided leadership and management for a multi-sectoral program including education, child protection, livelihoods, and youth empowerment. Previously, she served as the Country Director in Iraq for Mines Advisory Group (MAG), where she led and managed the country operation that worked closely with the Government of Kurdistan to clear the millions of landmines, and other explosive devices associated with war, along with mine risk education of refugees and internally displaced persons.
From 2006 to 2012 Wendy Barron held multiple positions, including Country Director with Windle Trust International in Sudan and South Sudan, with a focus on access to education and the Access to Safety and Justice program.
Education: Barron holds a master's degree in Business Administration degree, specializing in International Business Management, from the University of Otago in New Zealand.
Email:
wendy.barron@asiafoundation.org