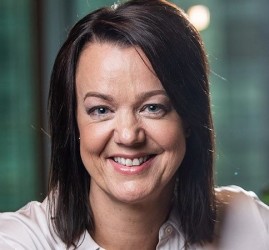 Member of the President's Leadership Council of The Asia Foundation
Chief Operating Officer, Zendesk APAC
Wendy Johnstone is the Chief Operating Officer for Zendesk APAC, based in Singapore. A business leader with more than 25 years' experience in the technology sector, Wendy is responsible for driving operational excellence across Asia Pacific and ensuring global and regional alignment for all of Zendesk's business functions and offices in APAC.
With an excellent track record in transformational leadership, driving growth and building high-performing teams, Wendy is driven by putting the customer at the heart of the business and helping them embrace digital transformation.
She is passionate about diversity and inclusion and is a fierce advocate for women in leadership and technology, currently serving as the global executive sponsor for the Women at Zendesk Employee Resource Group (ERG). She also serves on the President's Leadership Council at The Asia Foundation, helping to increase its profile, resources and effectiveness. As a leader, Wendy empowers her team to challenge the status quo, take risks and try new things by creating an atmosphere of trust and transparency while prioritizing team and cultural development.
Prior to joining Zendesk, Wendy led teams across both APAC and EMEA and worked at leading technology companies, including IBM, EMC, and Salesforce, where she was the Vice President of Marketing for APAC for three years. Most recently, she was the General Manager of Marketing and Operations at Microsoft Asia Pacific.
Wendy graduated with an HONS degree in business from Glasgow Caledonian University and a post-graduate diploma in marketing from Manchester Business School. She is also a graduate of the Australian Institute of Company Directors and The Marketing Academy Fellowship program, which is designed to give accomplished marketing leaders access to board level thinking, mentoring and coaching to prepare for future executive leadership roles. When she's not on Zoom calls, you can find Wendy spending time with her husband and their two children, exploring new and interesting places and cultures from their home in Singapore.