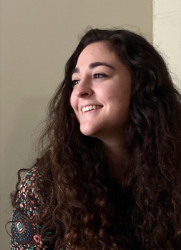 2021-2022 Luce Scholar
Yazmina Sarieh graduated from Emory University in May 2020 with a bachelor's degree in History and Arabic. Born and raised in a small immigrant community outside of Nashville, Tennessee, Yazmina has always had a passion for service, social justice and diversity. At Emory, she co-directed Behind the Glass, an organization connecting students with undocumented detainees who were being held in a nearby detention center. She led initiatives at Georgia Organics, a food justice organization, managing a project that mapped demographics, health disparities and nutritional assets in order to alleviate food insecurity among schoolchildren. She has volunteered with the International Rescue Committee to support the integration of newly arrived refugees from Afghanistan, Myanmar, Democratic Republic of Congo and Honduras. While interning at the Carter Center, she worked on large-scale conflict resolution with international actors regarding the Syrian Civil War, specifically advocating for the rights of internally displaced populations.
As a Gilman Scholar at al-Akhawayn University in Ifrane, Morocco and the Sultan Qaboos University in Manah, Oman, Yazmina connected with people around the globe, engaging in cross cultural dialogue and integrating into diverse communities. She was named a Phi Beta Kappa scholar upon graduation, and received the Matthew A. Carter Citizens Award from the Emory History Department, given to one student who best exemplifies academic achievement and good works in the community. Yazmina is motivated to work in migrant rights and advocacy, hoping to create more efficient policy, programming and infrastructure that will enhance economic growth, social inclusion and political stability among marginalized communities. During her free time, Yazmina loves to preserve her Palestinian heritage through embroidery, reading ethnographies and caring for her plants.