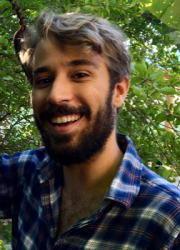 2021-2022 Luce Scholar
Dedicated to promoting social equity, Zach Denton works at the intersection of immigration and education to challenge the systemic criminalization of the migrant identity and ensure that adequate social and educational resources reach migrant communities. At thirteen, Zach began helping his neighbors in Atlanta, Georgia, on GED, as they were barred from public classes due to their migration status. He has since continued to engage with migrant rights through nonprofit work, academic pursuits, and activism.
As a Fulbright Scholar, he taught in Spanish and English in a multilingual, nationally diverse secondary school in Madrid, Spain. He constructed decolonized, inclusive curricula and challenged bias toward migrant students. His master's degree in Second Language Education thesis at the University of Cambridge examined Moroccan migrant student identity formation as a result of teaching practices in Spanish bilingual schools. In Lumpkin, Georgia, Zach piloted the expansion of a nonprofit hospitality house, the only one of its kind in the region, to serve migrants and asylum seekers being released from Stewart Detention Center, the largest immigration detention facility in the country, as well as their families.
Currently, Zach is working with a multi-generational community of Haitian migrants in the Dominican Republic through Yspaniola, a local, community-led nonprofit. Based on dialogue with the community of Batey Libertad, he conceptualized and implemented novel Covid-informed programming to provide access to literacy and university education as a way of overcoming systemic barriers to the documentation of Haitian people. Looking ahead, he is committed to replacing detention-based models worldwide with proactive social services and educational opportunities to migrants. Zach is a member of Phi Beta Kappa and Omicron Delta Kappa Honor Societies and a former Eli R. Callaway and Elias Shepard Scholar. He enjoys cooking, hiking, and creative writing.