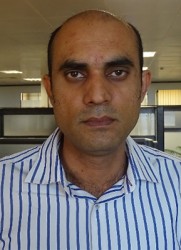 Advisor, Rule of Law, Pakistan
Team Lead, Alternative Dispute Resolution, Pakistan
Zeeshan Ali is an advisor for Rule of Law, and team lead for Alternative Dispute Resolution for The Asia Foundation in Pakistan. He is a lawyer by training with over 12 years of experience, and has provided legal advisory services to NGOs/INGOs, the Government of Pakistan, donors, bilateral and multilateral donor organizations, including UN agencies and the Asian Development Bank.
Zeeshan previously worked as legal officer for CNN in Pakistan before joining the Foundation in Pakistan in November 2016. Zeeshan is a trained Rule of Law advisor and an accredited mediator. As a JAMS ADR Fellow, Zeeshan worked as a research associate with the Federal Judicial Center in Washington, DC. He also has experience working as a mediator with the UN Secretariat of Ombudsman, New York.
Education: Zeeshan Ali graduated with a bachelor's degree in Law from Punjab University, and a master's degree in Law (Rule of Law for Development) from Loyola University Chicago School of Law.