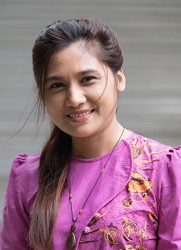 Senior Program Officer, Urban Safety Project, Myanmar
Zin Zin Thwe joined The Asia Foundation as program officer for the Urban Safety Project in January 2018. She is currently a senior program officer, leading government engagement work and implementation for the project. Zin Zin has over 10 years' experience working in the development sector, including in senior team leadership positions, focusing particularly on child protection and social work.
From 2006 to 2011 she worked as a community facilitator and social work supervisor at UNICEF and the Myanmar Nurse and Midwife Association and provided community home-based care for HIV infected and affected persons. Between 2012-2013 she worked with the Myanmar Professional Social Work Association and SONNE International focusing her attention on vulnerable street children. Between 2013 and 2017 she worked with Terre des Hommes under the Family Reintegration Project as team leader and senior team leader for the Family Based Alternative Care Project, the first of its kind in Myanmar, providing care for children who unable to live with their biological family.
Education: Bachelor's degree in Physics from Eastern University Thanlyinn, postgraduate diploma in Social Work and postgraduate diploma in Applied Psychology from Yangon University.