Afghanistan is a country in transition and continues to face significant challenges that require improvements in security, the economy, governance, and education. The past year saw steps forward in education and women's rights, declining levels of migration, and continued commitments from the international community at the Brussels Conference, but much more progress is needed to create a stable and democratic society. The Asia Foundation supports the Afghan people through local programs and partnerships focused on improving rule of law, access to and quality of education, women's rights and empowerment, regional cooperation, and security.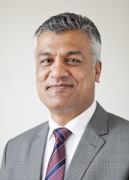 Abdullah Ahmadzai
Country Representative
Afghanistan in 2018: A Survey of the Afghan People
After four years in power, the National Unity Government (NUG) continues to face persistent challenges. Parliamentary elections were held in October 2018 across most of the country, after a three-year delay due to disputes over electoral reforms and instability. Insecurity has been a main concern for Afghans in every election since 2001 and this year was no exception, particularly given the deadly attacks on voter-registration centers across the country just before the Survey fieldwork was conducted. The Survey of the Afghan People is the longest-running and broadest nationwide survey of Afghan attitudes and opinions. Since 2004, the Survey has gathered the opinions of more than 112,000 Afghan men and women, providing a unique longitudinal portrait of evolving public perceptions.
Improving science and math learning for Afghan girls
Afghanistan has endured decades of conflict and instability that have significantly degraded and disrupted education. Technology and digital media can make a difference, especially when teaching material is dated. Recently, we debuted an effort to improve science and math instruction in 300 girls' high schools by providing tablets loaded with videos and thousands of practice quizzes. We also piloted the use of mobile and smart TV learning for 2,000 students in primary school, leading to significant improvements in reading skills, increased class attendance, and overall student engagement.
Increasing access to justice by enforcing laws
Violence against women is prevalent, with 80 percent of Afghan women stating they experience it on a daily basis. In 2017, 22 percent of women polled in our annual Survey of the Afghan People said domestic violence is one of the biggest problems facing Afghan women. We work to increase women's access to justice. Although Afghan law criminalizes numerous forms of violence against women, an understanding of women's rights in Islam and capacity to enforce the law are limited. An ongoing effort, with funding from The Royal Netherlands Embassy, allowed us to provide training in 20 provinces to help enforce the law. We also supported an effort in 2017 that provides restorative justice to victims of domestic violence, with activities benefiting nearly 1 million.
2019 Lotus Leadership Awards Dinner
Wednesday May 29, 2019, San Francisco
Honoring Jennifer Cabalquinto, CFO of the Golden State Warriors, and Lana Condor, Actor and Philanthropist
2019 Lotus Leadership Awards Gala
Wednesday, May 29, 2019, San Francisco