While having witnessed rapid economic growth and a substantial reduction in poverty in recent years, Pakistan continues to face governance, security, and social challenges. Our programs foster greater participation of all citizens, particularly women and minorities, to benefit from shared prosperity accruing from economic development. We work with local partners to strengthen the democratic and political process, promote inclusive participation, and build the capacity of local institutions to meet the needs of citizens and sustain the gains of economic and social development.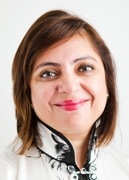 Sofia Shakil,
Country Representative
Safeguarding Religious Minorities
Although Pakistan has enacted laws to safeguard the rights of minority religious communities, their content and implementation leave gaping holes that urgently need to be addressed. Last year, we organized one-on- one meetings with journalists and civil society to discuss how balanced and sensitive reporting could benefit religious minorities. We also supported religious freedom caucuses in the National Assembly and the Provincial Assemblies of Punjab and Sindh to promote inter-faith harmony and highlight policy issues affecting minorities. Nearly 80 parliamentarians pushed for legislative reform and lobbied for seven bills to improve the treatment of minorities, promote greater tolerance, and prevent hate crimes. Four bills have since passed in the Sindh Assembly.
Enhancing Trade
The prospects for trade links uniting the Pakistan-Afghanistan-Central Asia region are tremendous, and we published and distributed a key report on its potential. Our insights and policy input were well received in both Pakistan and Afghanistan and were shared in a recent Pak-Afghan economic cooperation dialogue.
Uncovering the Impact of
VIOLENCE AGAINST WOMEN AND GIRLS

China passed a crucial Anti-Domestic Violence Law, but they need hard data to implement it. Our survey uncovers the real human, societal, and business costs.
Uncovering the Impact of
VIOLENCE AGAINST WOMEN AND GIRLS