About The Asia Foundation
Who we are
The Asia Foundation is a nonprofit international development organization committed to improving lives across a dynamic and developing Asia. Informed by six decades of experience and deep local expertise, our work across the region addresses five overarching goals—strengthen governance, empower women, expand economic opportunity, increase environmental resilience, and promote regional cooperation.
Headquartered in San Francisco, The Asia Foundation works through a network of offices in 18 Asian countries and in Washington, DC. Working with public and private partners, the Foundation receives funding from a diverse group of bilateral and multilateral development agencies, foundations, corporations, and individuals. In 2015, we provided more than $95 million in direct program support and distributed textbooks and other educational materials valued at over $10 million.
Our mission
The Asia Foundation improves lives, expands opportunities, and helps societies flourish across a dynamic and developing Asia. We work with innovative leaders and communities to build effective institutions and advance pathbreaking reforms. Together with our partners, we are committed to Asia's continued development as a peaceful, just, and thriving region of the world.
Our values
In an increasingly complex and changing world, we believe that a peaceful and engaged Asia is of critical global importance. These core values continue to define our work in the 21st century.
Deep respect for local context | We value local expertise and knowledge; we are immersed in the social, political, environmental, and economic realities where we work. Our approach is centered on the catalytic role that individuals, communities, and governments play in the development of their societies.
Inclusion of differing views | We believe in the importance of myriad views and perspectives; we encourage inclusive dialogue to help ensure everyone has a seat at the table. Our mission, people, and programs are defined by our commitment to equality, particularly for women and other marginalized populations.
Innovative, agile thinking | We value fresh, original ideas and we are known for our ability to identify and respond rapidly to issues and events affecting the places where we work. Our institutional culture encourages experimentation with new approaches and sharing the results through empirical research, expert analysis, collaboration with other organizations, and outreach.
Trust, accountability, and partnership | We value collaboration and believe that working closely with forward-thinking leaders can improve lives, governance, and policies. Our operations and programs reflect the integrity and dedication of our local and international staff of development professionals.
Longstanding presence and commitment | Since our founding in 1954, we have worked side by side with dedicated individuals and institutions to make history through far-reaching reforms and inclusive development. Our impact is grounded in our ability to combine a long-term, experienced perspective with our strong network and commitment to Asian progress.
Our approach
Our experience working with a broad range of public and private donors, host governments, business associations, policy institutes, academic institutions, and civil society organizations enables us to adapt flexibly and creatively to the changing donor and competitive landscapes.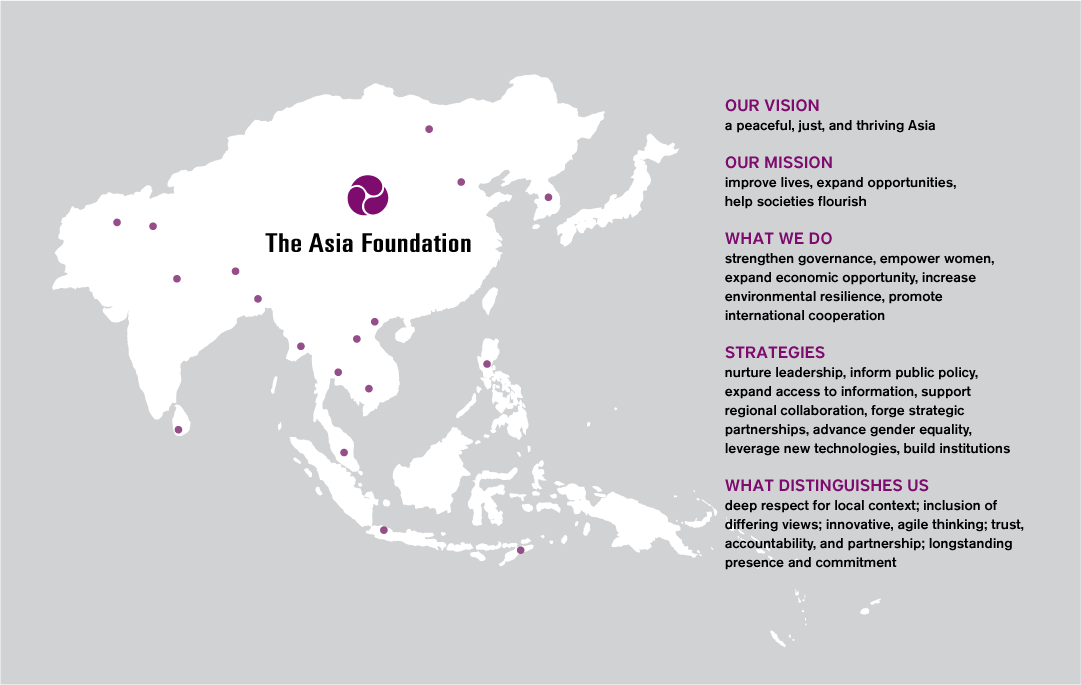 What we do
While we take pride in Asia's emergence as a dynamic, prosperous, and largely peaceful region, the region continues to face critical issues that threaten the aspirations of billions. People across Asia are threatened by the lack of access to justice and to natural resources, by rising inequality, pervasive subnational conflicts, challenges of urbanization, violence against women, and a closing space for civil society. Left unaddressed, these challenges threaten Asia's many political and economic gains and undermine its future prospects. Learn more about the issues central to The Asia Foundation's programs and impacts.
Our impact
We measure our impact in numbers and lives. Behind each number is a story and a life made better by The Asia Foundation.
All material, including text and images, appearing on The Asia Foundation's website are the property of The Asia Foundation, or used by permission. The materials contained in this site may not be modified or altered in any way. You may not copy or distribute any photograph, illustration, artwork, video, audio, or other graphic material contained on this site for any use without first obtaining written permission from The Asia Foundation and any other applicable copyright owner(s). You may not copy, distribute, enter into a database, display, perform, create derivative works of, transmit, or in any way exploit any part of our site. The Asia Foundation's name and logo are registered trademarks of The Asia Foundation.