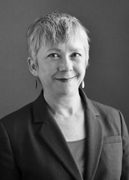 Trustee of The Asia Foundation
Educator
Former Dean of Academics, Asia-Pacific Center for Security Studies
Former U.S. Ambassador to Asia-Pacific Economic Cooperation (APEC)
Lauren Kahea Moriarty joined The Asia Foundation Board of Trustees in 2014. She is an educator, committed community leader, frequent public speaker, and former dean and diplomat. In 2010-2013, Moriarty served as Dean of Academics at the Asia-Pacific Center for Security Studies, a U.S. Department of Defense educational institution. Prior to that, she was a career U.S. diplomat for almost three decades, working primarily on Asia and international economics. Moriarty was U.S. Ambassador and Senior Official to Asia-Pacific Economic Cooperation (APEC) and State Department deputy assistant secretary-level Coordinator for East Asia and Pacific Economic Issues (2003-2005).
As head of the Economic Sections at the U.S. Embassy in the PRC (1999-2001) and the American Institute in Taiwan (1994-1997), she provided critical advice and support to the China and Taiwan accessions to the World Trade Organization. From Washington, DC and assignments abroad, she shaped U.S. policy on lending from the World Bank, Asian Development Bank and other international financial institutions.
Moriarty also served as deputy head of the American Institute in Taiwan (1997-1998), the institution the U.S. Congress established to manage relations between the peoples of the United States and Taiwan. Moriarty has lived and worked for twelve years in East and Southeast Asia (China, Taiwan, and Thailand) and seven years in South Asia (Bangladesh, Nepal and Pakistan). She is passionate about education, serves on boards related to education and actively supports efforts for young people to engage globally. Moriarty earned her bachelor's degree from the University of Hawai'i and a Master of Arts in Law and Diplomacy degree from the Fletcher School at Tufts University.