The Asia Foundation and KDI School Facilitate AADC Dialogue on Industrial Revolution 4.0 and the Future of Work
Seoul, October 31, 2019 — On October 28-30, 2019, The Asia Foundation and the KDI School of Public Policy and Management hosted the Asian Approaches to Development Cooperation (AADC) dialogue and authors' workshop on Industrial Revolution 4.0 and the Future of Work: Implications for Asian Development Cooperation in Seoul, Republic of Korea. Organized jointly by the KDI School and The Asia Foundation, AADC brings together development experts from Asia and beyond to share perspectives and facilitate mutual learning between and among emerging development actors.
In the ninth year of the AADC series, this year's dialogue covered the role of Asian development cooperation in regards to the industrial revolution 4.0 (4IR) and addressed the challenges and opportunities 4IR presents for the future of work in Asia, as well as how private sector led solutions can be applied to diverse national and regional 4IR challenges.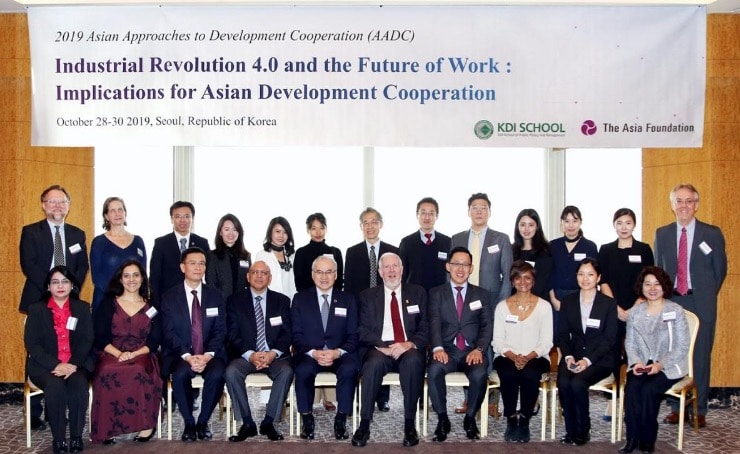 Over the course of two days, participants from India, Cambodia, Bangladesh, Singapore, Thailand, Japan, Korea, UNDP, UNESCAP, ADB and private sector partners such as Microsoft and IBM shared perspectives and approaches from the public and private sectors under the theme of 4IR and future of work. Discussions included exploring present structural readiness in respective national contexts for the changing technological landscape, examining new types of partnerships in preparing for the transition, reviewing private sector-led strategies in tackling these challenges, and identifying areas of region-wide cooperation for mutual competitiveness.
Following the dialogue, on Oct 29-30 an authors' workshop was convened to elaborate on the topics discussed at the dialogue, participants from India, Thailand, Cambodia, and Singapore shared their views based on their countries' contexts and experiences. Participants were guided on how to create a solid argumentative paper by Anthea Mulakala, director of International Development Cooperation at The Asia Foundation and Suzan Nolan, director of BlueSky International.
Over the years, AADC dialogues and publication workshops have approached Asian development cooperation from different angles: inclusive growth, climate change mitigation and adaptation, social mobility, the future of South-South cooperation in the region, role of non-state actors in Asian development cooperation, approaches that Asian countries undertook in tackling the urbanization and women's empowerment Sustainable Development Goals, and conflict prevention and peacebuilding.
The Asia Foundation is a nonprofit international development organization committed to improving lives across a dynamic and developing Asia. Informed by six decades of experience and deep local expertise, our work across the region addresses five overarching goals—strengthen governance, empower women, expand economic opportunity, increase environmental resilience, and promote regional cooperation.
Read more about the Foundation's work.
For media inquiries, please visit our News Room. Engage with us on Facebook, Twitter, LinkedIn, and Instagram.
Read our latest news, or insights from our blog.
Media contacts
Amy Ovalle, Vice President, Global Communications
[email protected]
415-743-3340
Eelynn Sim, Director, Media & Strategy
[email protected]
415-743-3318
2020 Annual Report
Addressing the global crisis