Asia Foundation Research Highlights Power of Women-in-STEM Networks in Asia
June 28, 2021 — A new Asia Foundation report, Accelerating Women's Advancement in STEM: Emerging Lessons on Network Strategies and Approaches in Asia, examines women-in-STEM networks and the barriers that women with careers in science, technology, engineering, and mathematics (STEM) face. With support from Zendesk—and under a partnership focusing on gender equality in the region—the report analyzes over 70 women-in-STEM networks in Southeast and East Asia and provides recommendations to help close the gender gap in STEM education, entrepreneurship, and employment.
The pandemic threatens to widen already serious gaps in women's participation in the labor force and STEM fields specifically. A focused approach to addressing the underrepresentation of women in STEM, and in leadership roles, is essential to a post-Covid-19 recovery. STEM fields are vital in building future-ready inclusive economies; currently, the Philippines is the only Asian country that ranks in the top 10 globally for closing the STEM gender gap.
Women's STEM networks play an important role in overcoming barriers and advancing opportunities for women and girls; for example, to create and sustain a space for sharing, support, and mentorship. The new research highlights successful strategies networks take to achieve this, such as by making STEM more affordable, approachable, and accessible for women across their career trajectories. This helps women launch careers in STEM, persist in the workforce and rise to senior levels, and transition to STEM mid-career. The report also discusses operational, programmatic, and structural limitations women in STEM face. These factors can limit the effectiveness and sustainability of networks and pose challenges for the management of successful networks if and when they scale.
The report also captures emerging lessons for funding and fortifying networks in ways that help more women enter and succeed in STEM careers in Asia and that advance STEM equity. In addition, the research provides insights relating to global trends on workforce development; Diversity, Equity, and Inclusion (DEI) strategies; talent recruitment/retention practices, physical and psychological safety; and mentoring and leadership development.
Recommendations for networks, private sector companies, and government in strengthening their work in support of women's STEM leadership are included. This includes a commitment to a "network of networks" for women in STEM.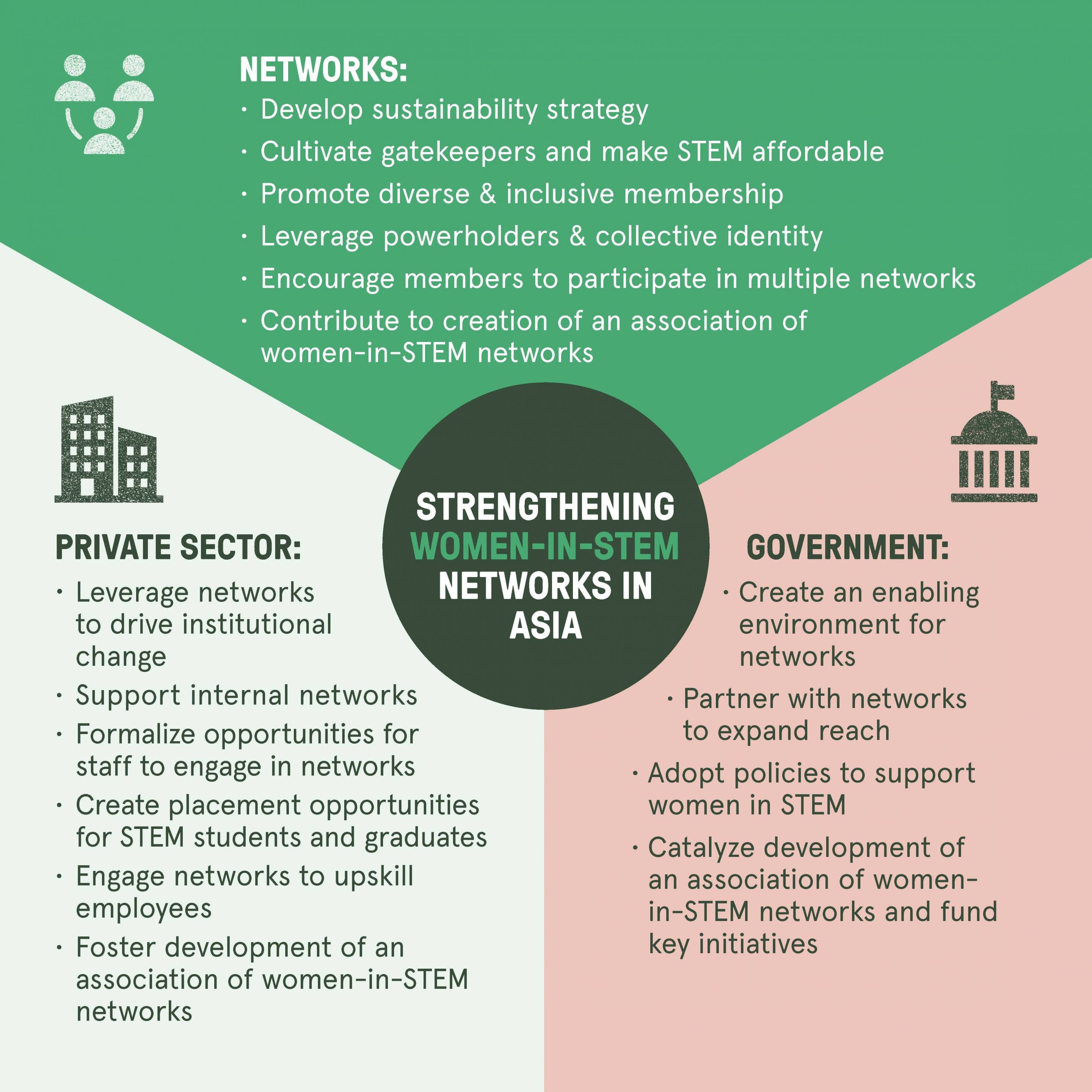 Zendesk started the customer experience revolution in 2007 by enabling any business around the world to take their customer service online. Today, Zendesk is the champion of great service everywhere for everyone, and powers billions of conversations, connecting more than 100,000 brands with hundreds of millions of customers over telephony, chat, email, messaging, social channels, communities, review sites and help centers. Zendesk products are built with love to be loved. The company was conceived in Copenhagen, Denmark, built and grown in California, taken public in New York City, and today employs more than 4,000 people across the world. Learn more at www.zendesk.com.
The Asia Foundation is a nonprofit international development organization committed to improving lives across a dynamic and developing Asia. Informed by six decades of experience and deep local expertise, our work across the region addresses five overarching goals—strengthen governance, empower women, expand economic opportunity, increase environmental resilience, and promote international cooperation.
Read more about the Foundation's work.
For media inquiries, please visit our News Room. Engage with us on Facebook, Twitter, LinkedIn, and Instagram.
Read our latest news, or insights from our blog.
Media contacts
Amy Ovalle, Vice President, Global Communications
[email protected]
415-743-3340
Eelynn Sim, Director, Media & Strategy
[email protected]
415-743-3318
Leaders on the Frontlines:
Leaders for a Better World
Tuesday, November 9, 2021, 6PM PT