The Asia Foundation Hosts Second Australia-Republic of Korea-United States Trilateral Dialogue
Seoul, June 21, 2023 — On June 7-8, in cooperation with the Perth USAsia Centre in Australia, The Asia Foundation organized a Republic of Korea – Australia – United States Trilateral Dialogue in Seoul that examined energy, critical materials, and supply chains for future trilateral cooperation. This meeting builds on the Foundation's first trilateral held virtually in December 2021. In that dialogue, the importance of future energy, critical elements, and supply chains was touted as promising areas where all three countries can cooperate to form a key plank of the trilateral relationship.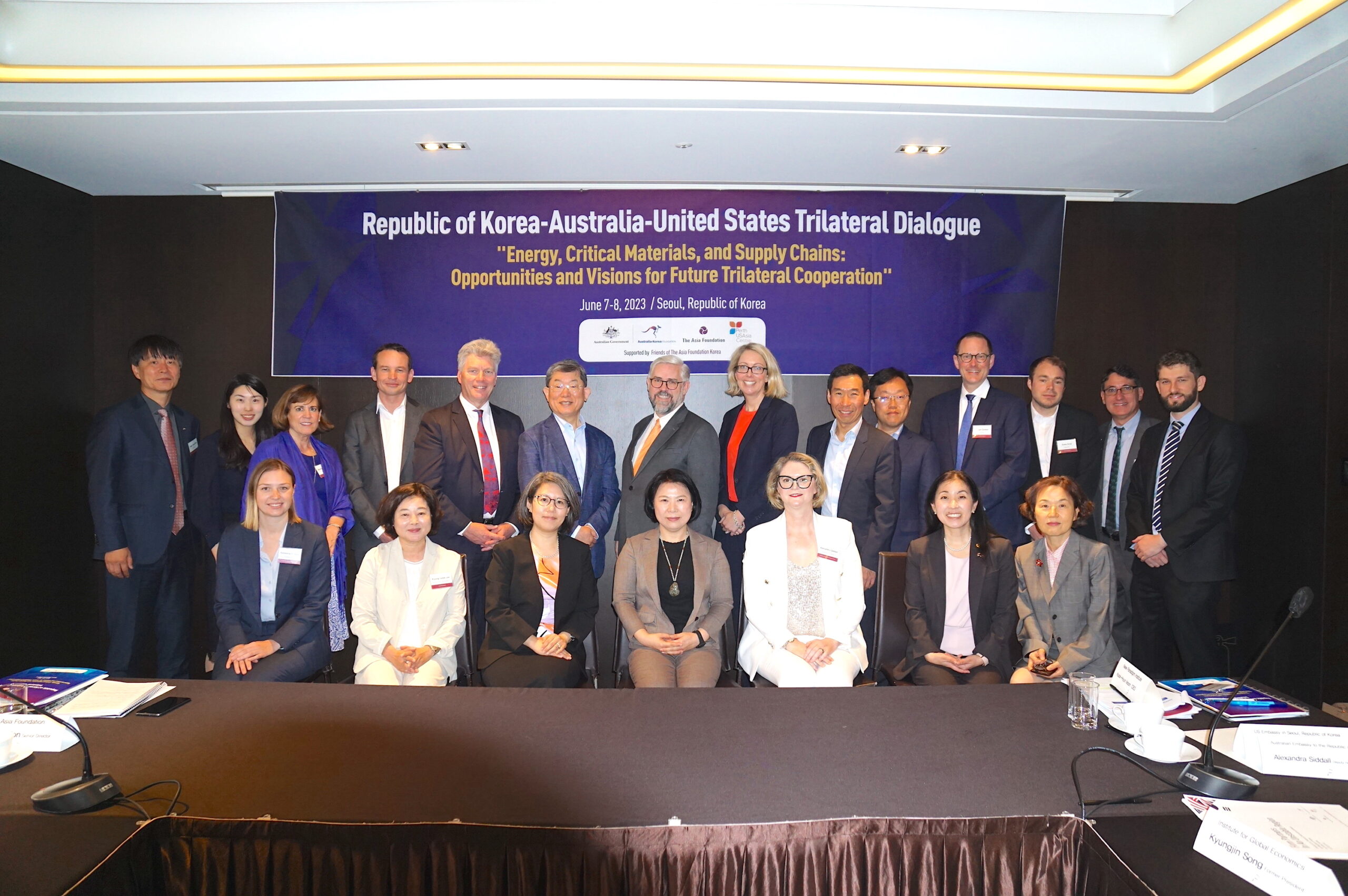 This Seoul Trilateral Dialogue brought 20 specialists from South Korea, Australia, and the United States to discuss and examine (1) each country's energy status and strategies for future opportunities, including supply of future batteries, hydrogen, lithium, etc.; (2) critical materials more broadly and rare earth metals, in particular, with a focus on the unique roles and requirements of each country as well as the need for collaborative efforts to secure the development and supply of such critical materials; and (3) the challenges and risks of supply chain disruptions and explore how the three countries can build robust and secure supply chains for future energy and critical materials.
With South Korea, Australia, and the United States facing similar flashpoints in the region, there is more impetus than ever before for these three democracies to collaborate. The Asia-Pacific region's rapidly changing environment is opening doors for cooperation and new policy options that see a new need for further dialogue between like-minded countries.
The Trilateral Dialogue has received funding from the Australia-Korea Foundation of the Department of Foreign Affairs and Trade and the Friends of The Asia Foundation Korea.
The Asia Foundation is a nonprofit international development organization committed to improving lives and expanding opportunities across Asia and the Pacific. Informed by decades of experience and deep local expertise, our work across the region is focused on good governance, women's empowerment and gender equality, inclusive economic growth, environment and climate action, and regional and international relations.
Read more about the Foundation's work.
For media inquiries, please visit our News Room. Engage with us on Facebook, Twitter, LinkedIn, and Instagram.
Read our latest news, or insights from our blog.
Media contact
Eelynn Sim, Director, Media & Strategy
[email protected]
415-743-3318
The Asia Foundation Supports Leaders for a Better World