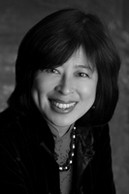 Trustee Emeritus of The Asia Foundation
Lotus Circle Advisor
Founder, Alice Young Advisory
Former Independent Director, AXIS Capital Holdings, Ltd.
Alice Young served on The Asia Foundation's Board of Trustees from 2012 to 2016, having previously served from 2003-2011. She is the Founder of Alice Young Advisory, which advises multinationals and entrepreneurs on their Asia business strategies and investments. She retired from active law practice after 40 years, the last 20 years as Partner and Chair of the Asia Pacific Practice at Kaye Scholer LLP. Ms. Young has been based in New York, Hong Kong and Tokyo; she worked in Hong Kong in the pioneering early 1970s, did her first China deal in 1979, and in 1981 was the first woman, minority and the youngest partner to head a New York branch law office.
Ms. Young served as Independent Director of AXIS Capital Holdings, Ltd., a NYSE-listed reinsurance and insurance company headquartered in Bermuda, and of Mizuho Trust & Banking Co. (USA), the U.S. custodial bank subsidiary of the Mizuho Financial Group of Japan, until her retirement. She is a Lifetime Trustee of the Aspen Institute and a Lifetime Member of the Council on Foreign Relations. She is also a member of the Committee of 100, Women Corporate Directors and New York Women's Forum and is a Fellow of Yale University's Davenport College. She has received numerous awards for her corporate, mentoring and civic achievements, including The Yale Medal, Boy Scouts of America (NY Councils) "Distinguished Woman of the Year" Award and the Asian American Legal Defense and Educational Fund "Justice in Action" Award, and she was selected by Harvard Law Record as one of the 50 outstanding alumnae of Harvard Law School.
Ms. Young was in the first class of women graduates of Yale College and was one of the first Asian American women to graduate from Harvard Law School.