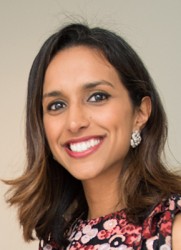 Lotus Circle Advisor
Deshi Singh joined The Asia Foundation's Lotus Circle as an Advisor in 2019. She helped establish the Young Lotus Circle in 2013, which hosts regular social and fundraising events to benefit the women's empowerment program. Deshi is passionate about supporting women and children, both near and far, and is actively involved in supporting organizations such as Planned Parenthood, Hudson River Park and WIN NYC.
Deshi holds a degree in Economics from Wellesley College. She spent nearly a decade in the finance sector, starting in Investment Banking at Morgan Stanley and working at hedge funds including Och Ziff and Hudson Bay Capital Management. She helped co-found Gem X, a jewelry social club based in NYC born out of a desire to transform jewelry into a social experience for a new generation of enthusiasts. In addition, Deshi is currently completing her Graduate Gemologist degree at the Gemological Institute of America.