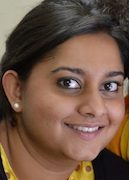 Senior Program Officer, India
Diya Nag came to The Asia Foundation in 2009 as a junior associate with the Governance, Law, and Civil Society Program in San Francisco, and then joined as a program officer in the India office in 2012, working on regional trade, and managing grants in the areas of women's security and open and accountable governance. She rejoined the Foundation once again in 2015, focusing more deeply on women's security and regional trade.
Prior to this, Diya worked with the United Nations Development Program (UNDP), engaging closely with the Department of Justice in India, on strengthening justice delivery and access to justice for marginalized groups. She has also spent three years working with the Commonwealth Human Rights Initiative (CHRI), an international human rights organization based in New Delhi. Her work at CHRI involved advocating for police reforms and increased police accountability in South Asia. Before relocating to India, Diya practiced consumer law in New York City.
Education: Bachelor's degree in Human Rights and Sociology from Barnard College, Columbia University; Juris Doctor with a specialization in Global Law and Practice from the Syracuse University College of Law. Diya is a member of the New York Bar, First Appellate Division.
Phone:
+91 (11) 473-63100
Email:
diya.nag@asiafoundation.org