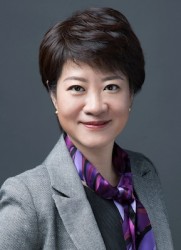 Country Representative, China
Jianxin (Jane) Zhang is the country representative for The Asia Foundation in China, overseeing all aspects of the Foundation's work in the country. An experienced professional in international affairs and development, Jane joined the Foundation with a well-rounded background of experience in foreign affairs, the private sector, and not-for-profit space.
Jane brings a nuanced understanding of the policy environment in China and is an expert in advising nongovernmental actors on how to effectively engage with government and public stakeholders regarding policy in areas such as United States and China relations, international development, agriculture, and food security, water, sanitation, and hygiene, climate change, and sustainability. Jane's experience with policymaking began as a foreign service officer for the Chinese Ministry of Foreign Affairs in the spokesman's office. She later worked for multinational corporations including Johnson & Johnson and Pfizer, helping them to develop and execute strategies for pursuing their policy interests within China. Prior to joining the Foundation, Jane served as principal for DaoHe Consulting. At DaoHe, she supported international nongovernmental organizations with a China presence in understanding the country's policy environment, engaging stakeholders, and implementing programs while also supporting efforts in advocating for China-for-the-world collaborations.
Education: Jane Zhang has a master's degree in Public Administration from Princeton University's Woodrow Wilson School of International and Public Affairs, a master's degree from Xiamen University, and a bachelor's degree from Hebei University.