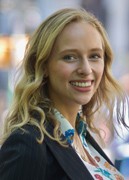 2017-2018 Luce Scholar
Centre for Liveable Cities
In Singapore, Martha Isaacs will work with the Centre for Liveable Cities. Established in 2008 by Singapore's Ministry of National Development and the Ministry of the Environment and Water Resources, the Centre has as its mission "to distill, create and share knowledge on livable and sustainable cities." The Centre's work spans four main areas: research, capacity development, knowledge platforms, and advisory. It seeks to understand how Singapore has transformed in the last five decades, and address Singapore's emerging urban challenges ranging from transport, industrial infrastructure, land, construction and urban redevelopment to water, sustainable environment, biodiversity and tourism. The Centre collaborates with two other government agencies responsible for urban planning: Land Transport Authority and Urban Redevelopment Authority.
Martha will graduate with honors in May 2017 with a bachelor's degree in the Geography of Human Activity and minors in Philosophy and City and Regional Planning from the University of North Carolina at Chapel Hill (UNC). On a full merit scholarship, she has spent her undergraduate studies analyzing the ways in which transportation accessibility affects urban citizens' mobility, from the unequal distribution of light rail routes in her hometown, Baltimore, to the lack of walkability observed in her neighborhood in Chapel Hill. Particularly interested in participatory planning to increase social capital in neighborhoods, especially through accessible transportation, she has worked for the New York City Anti-Violence Project and The Glass-House Community Design in London. In the fall of 2015, she spent a semester abroad comparing city planning practices in New York, Buenos Aires, Dakar, and Hanoi. She received research funding to study resilience in Durban, South Africa, and co-authored an article for the UNC urban planning blog, "Angles," about the Rockefeller Foundation's 100 Resilient Cities initiative as implemented in Durban.
Experienced in data analysis from her time as a consultant at Nelson/Nygaard, a transportation planning firm in San Francisco, she hopes to apply her knowledge of public policy and transit coverage to increase transportation options for disabled, elderly, and low-income communities. Back at UNC, she volunteers as a family mentor for the Refugee Community Partnership and visits incarcerated youth with Criminal Justice Awareness and Action. She also works as a research assistant at the Highway Safety Research Center in Chapel Hill, developing issue briefs on bicycle and pedestrian traffic impact analyses. Martha is currently writing an honors thesis focusing on barriers to cycling for the Burmese refugee community in Chapel Hill, and will present her work at a session regarding "Immigrant Experience" at the Association of American Geographers conference in April 2017. She is also teaching a seminar course on how the built environment affects place-based identity and concepts of home, incorporating her interests in photography, filmmaking, and music into experiential learning methods in urban planning. Building on this topic, she participated in the UNC TEDx student speaker competition, and was chosen to speak in the UNC TEDx conference about the privatization of residential neighborhoods in the U.S. Martha enjoys running mid- to long distance races and hosting a weekly radio show for UNC's student-led radio station.