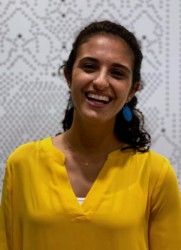 2021-2022 Luce Scholar
Michelle Abou-Raad is a second-generation Lebanese-American, born and raised in the suburbs of Boston. She was awarded the Cardinal Medeiros Scholarship to attend Boston University (BU) where she graduated in 2016 with honors in International Relations and Middle East & North Africa Studies. The first member of her family to attend college, Michelle has focused her studies and career on empowering underserved communities. While at BU, she wrote an honors thesis and conducted field research about the efficacy of vocational programs for refugee women and interviewed women living in Zaatari refugee camp and in urban areas in Jordan. She also co-founded Urban Refuge, a mobile application that helps refugees and vulnerable individuals locate aid and services in cities. Michelle has written articles to raise awareness about forced migration, and spoken at the United Nations to advocate for involving migrant and refugee youth in migration policy development and program implementation.
Following her graduation from BU, she worked as an employment specialist at JVS Boston, the largest workforce development agency on the East Coast, where she assisted refugee and immigrant clients with reaching their employment goals. From 2017 to 2019, she worked at Creative Associates, an international development NGO, managing multimillion dollar capacity-building projects in the Middle East. Now based in Dubai, United Arab Emirates, Michelle works in strategy consulting at Strategy& (part of the PwC network) where she helps public and private sector clients in the Middle East develop strategies to pursue growth and create value in developing markets. Michelle aims to lead—or establish—an organization, be it a nonprofit or social enterprise, that empowers individuals and their communities through education and vocational programming. In her free time, she enjoys boxing, exploring new places, and trying different cuisines.