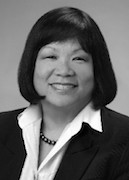 Treasurer of the Board and Executive Committee
Chair and CEO, OmniTrak Group Inc.
The Honorable Patricia M. Loui is an international business and economic development executive in both the private and public sectors. President Obama nominated Loui and the Senate unanimously confirmed her to the full-time board of directors of the Export-Import Bank of the U.S. (EXIM) in 2011. Nominated for a second term in 2015, she withdrew for personal reasons in 2016. She subsequently re-joined Omnitrak Group Inc., a strategic marketing, research and planning consultancy she founded 30 years ago, as Chair and CEO.
During her four years at EXIM, Loui led initiatives to increase U.S. exports to Asia with authorizations growing multi-fold in China and ASEAN, and Indonesia becoming its fourth largest market. Loui was instrumental in the signing of a significant addendum with China's Ministry of Finance to extend the U.S.-China Framework Agreement's Sovereign Guarantee Loan Program to cover environmental products and services. After President Obama suspended sanctions on Burma, Loui led EXIM's opening and first loan closing there for the first time in 27 years and became the first member of its Board to visit the country. She signed Memoranda of Understanding for renewable energy financing with the Ministries of Energy in the Philippines, Vietnam, and Brunei, and spoke at India's first Renewable Energy conference, hosted by the Prime Minister. Internally, Loui chaired the Board's Audit Committee and provided leadership for EXIM's women and minority-owned business initiative, encouraging small business exporting at hundreds of events. Loui was awarded the Department of Commerce National Director's Award from the Minority Business Development Agency in 2015. Prior to serving at EXIM, Loui was appointed by the U.S. Secretary of State to the Asia Pacific Economic Cooperation (APEC) Hawaii Host Committee to work with the White House and State Department on the 2011 Leaders Week hosted by President Obama. She served on its executive committee.
As Omnitrak's current CEO, Loui acquired the leading U.S. national research database for tracking domestic and international travel by Americans. She also launched new products in China, Japan and Korea. Previously, Loui served as chief marketing officer at Bank of Hawaii, a regional bank ranked among the top performing in the U.S. and worked for the United Nations Development Program and UNESCO. She has undertaken projects from Fiji to India and China to Australia.
Loui holds a bachelor's degree in journalism from Northwestern University and a master's degree in Asian Studies from the University of Hawaii while on a U.S. State Department grant to the East-West Center (EWC). She currently serves on the Inouye Fellowship Committee for the Daniel K. Inouye Asia-Pacific Center for Security Studies. For five years she was president of the 55,000-member EWC Association. Loui has also served on the Board of the PLUS Automated Teller Machine System; the University of Hawaii Foundation; the Governor's Economic Revitalization Task Force; the Kapiolani Medical Center Foundation, and Pacific Marine and Supply Co. Ltd.
She is married to Michael Schmicker, a business development executive and writer. They have one son, Christopher L. Schmicker of New York City.